Debic
Made for Professional Hands
The professional dairy brand for foodprofessionals
Debic
We are Debic
Debic is a professional dairy brand for chefs, pastry chefs and other foodservice professionals. One of the core components of culinary masterpieces is dairy, an essential ingredient for the success of chefs and bakers. We provide chefs and bakers with a solid base of dairy tools they can trust blindly. As a reliable partner, we support you in making your professional life easier, in whatever way we can. We understand the challenges that come with using dairy and make sure our products are very practical to use. Get to know our high-quality dairy products that are continuously innovated and optimized in terms of functionality.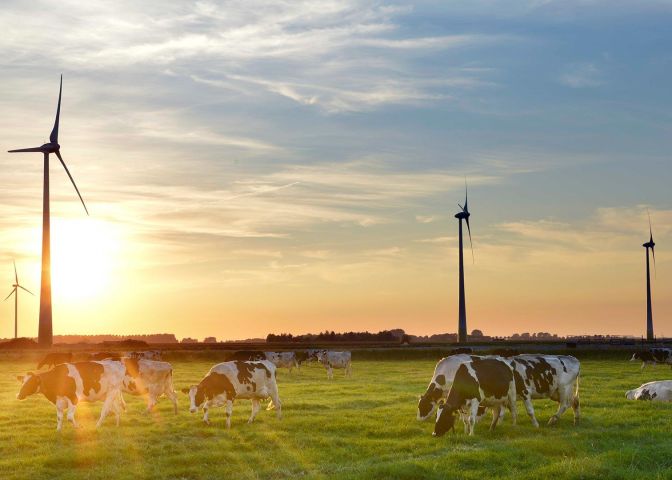 Debic
Debic & Sustainability
As a chef or pastry chef, you prefer to work with the purest, tastiest ingredients. The best of what our planet has to offer. So does Debic. That is why we are committed to taking care of our planet. Together with our farmers. And with you!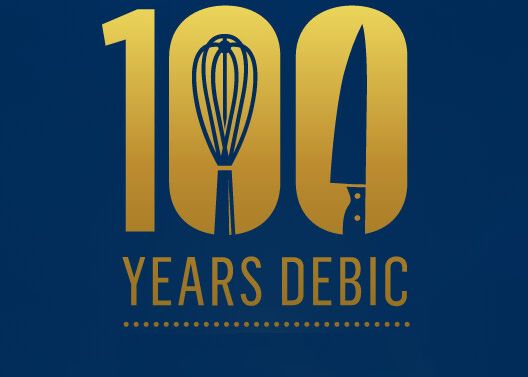 Debic
Over 100 years of dairy expertise
Dairy is an important ingredient in every bakery and kitchen and contributes to the success of chefs, bakers and pastry chefs. 100 years ago Jean Debije started collecting milk, which has been the foundation of Debic today! See below some highlights of these 100 years.
Product categories
at a glance
Dairy products are essential in professional kitchens. Debic strives to make them as easy as possible to use on a day-to-day basis. Rich in taste an developed for professional use and to support you as a foodprofessional, so you can focus on what you do best. Create amazing food. Discover our products here.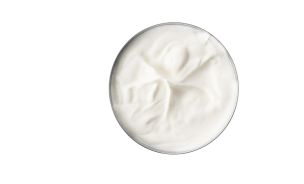 Creams
In many cases cream is added as part of a dish or pastry to balance out the tase. It softens certain harder flavours, thus balancing them with other components on the plate. In addition, cream give structure and texture to dishes and pastry applications. Debic provides a wide range of cream products including whipping cream, spray cream and cooking cream.
Butter
There is an optimal butter choice for every application and processing temperature. Find the best product solution for your creations.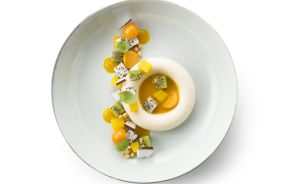 Desserts
Desserts are the last thing your guests will remember from their evening at your restaurant. They are the perfect dishes to impress your guests and make a
lasting impression. Debic offers a wide range of dessert bases.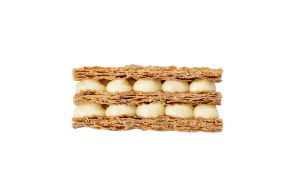 Fillings
Debic provides a range of fillings to be used as pastry and cake fillings.
Ice & Shakes
Ice cream will make your customers smile! If you can convey your passion for making ice cream to your customers, they will melt and enjoy the ice cream even more.
New products
and inspiration
Below is a selection of recent innovations in successful partnership with our customers.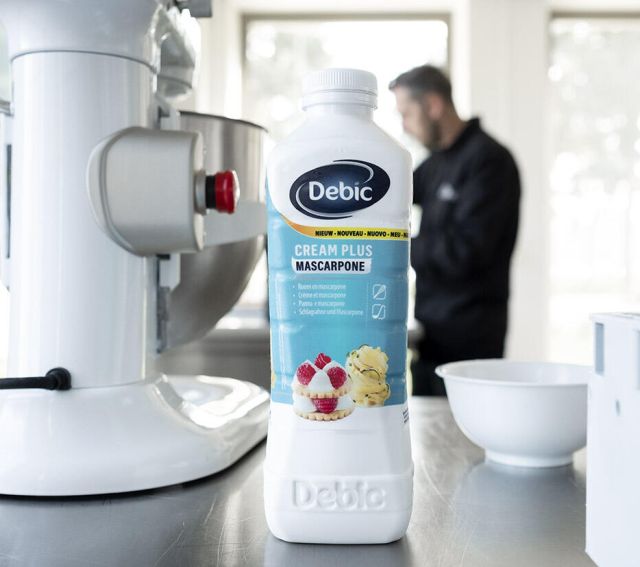 Debic Cream plus Mascarpone
Debic Cream plus Mascarpone, a perfect mix of cream and mascarpone. Extra easy, extra rich! The product has been developed and tested by our customers and resulted into a perfect ready-to-use mix of cream and mascarpone. Perfect for adding richness to sweet and savoury dishes. Quick and easy to use, giving you more time to be creative.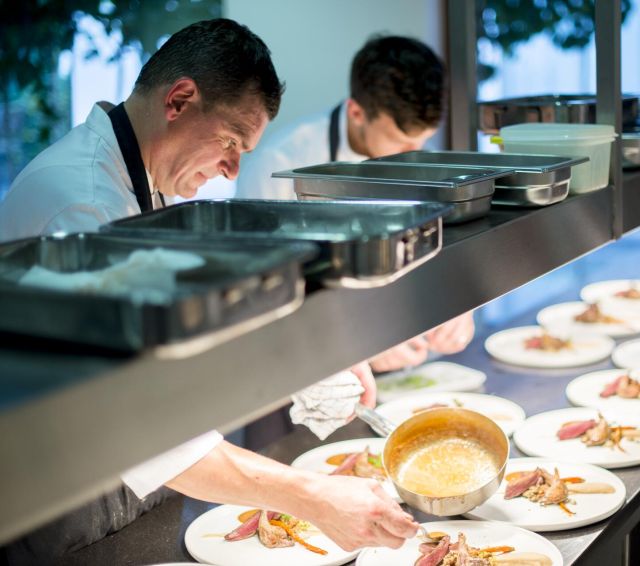 Release the saucier in you!
Don't settle for less go original. The perfect sauce starts with the perfect base. For many years Debic has been setting the standard for professional cooking cream. The unrivaled binding and cooking functionalities of Debic Culinaire Original delivers quality and a guaranteed end result, without time or production loss. Because of the 20% milk fat it ensures the ideal balance in taste, making it perfect for preparing sauces. Release the saucier in you and discover inspiring recipes in our brochure.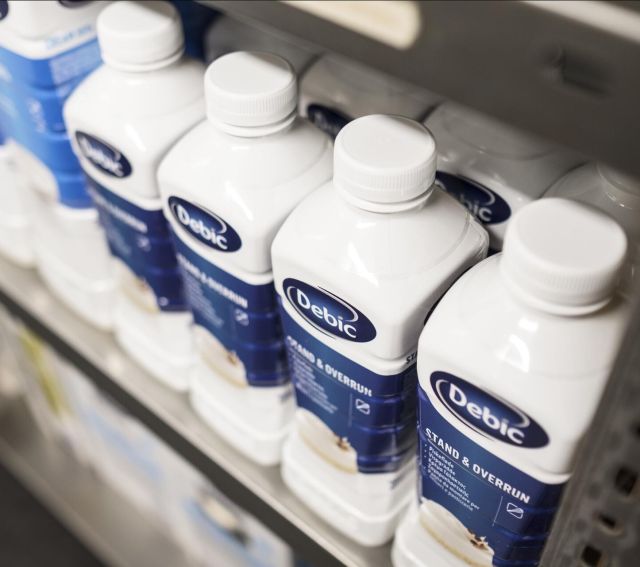 Debic Stand & Overrun
Debic Stand & Overrun is especially developed for pastry creations. Perfect for decorating, filling purposes and the preparations of bavarois, mousses and ice cream. It is a modern pastry cream with 35% fat, the perfect mariage between high yield and excellent firmness.
Stories
Your collegues can tell it better than we do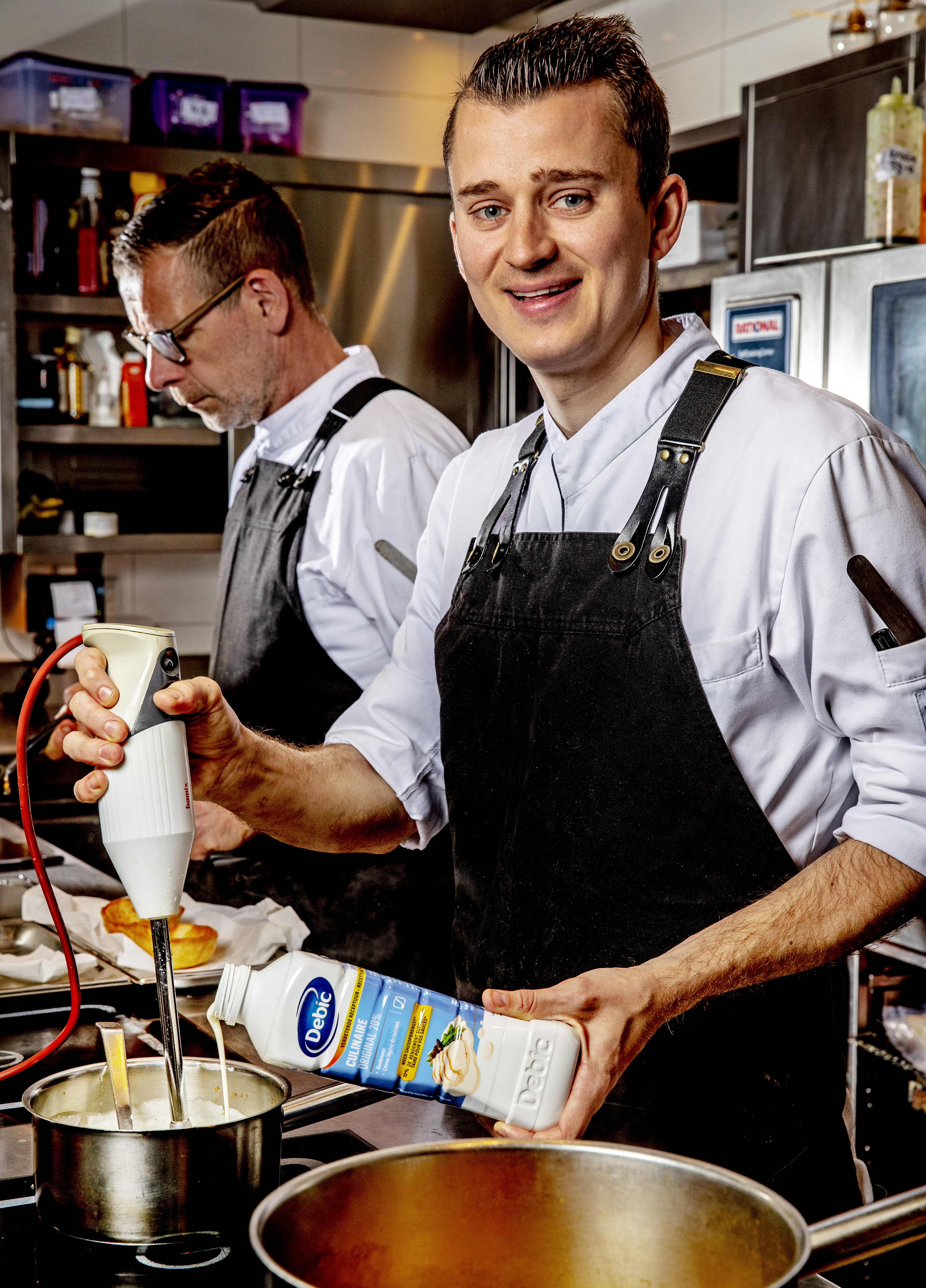 Restaurant Slot Oostende
Jorran Musters
"Debic Culinaire is a perfect match with our artisanal cuisine"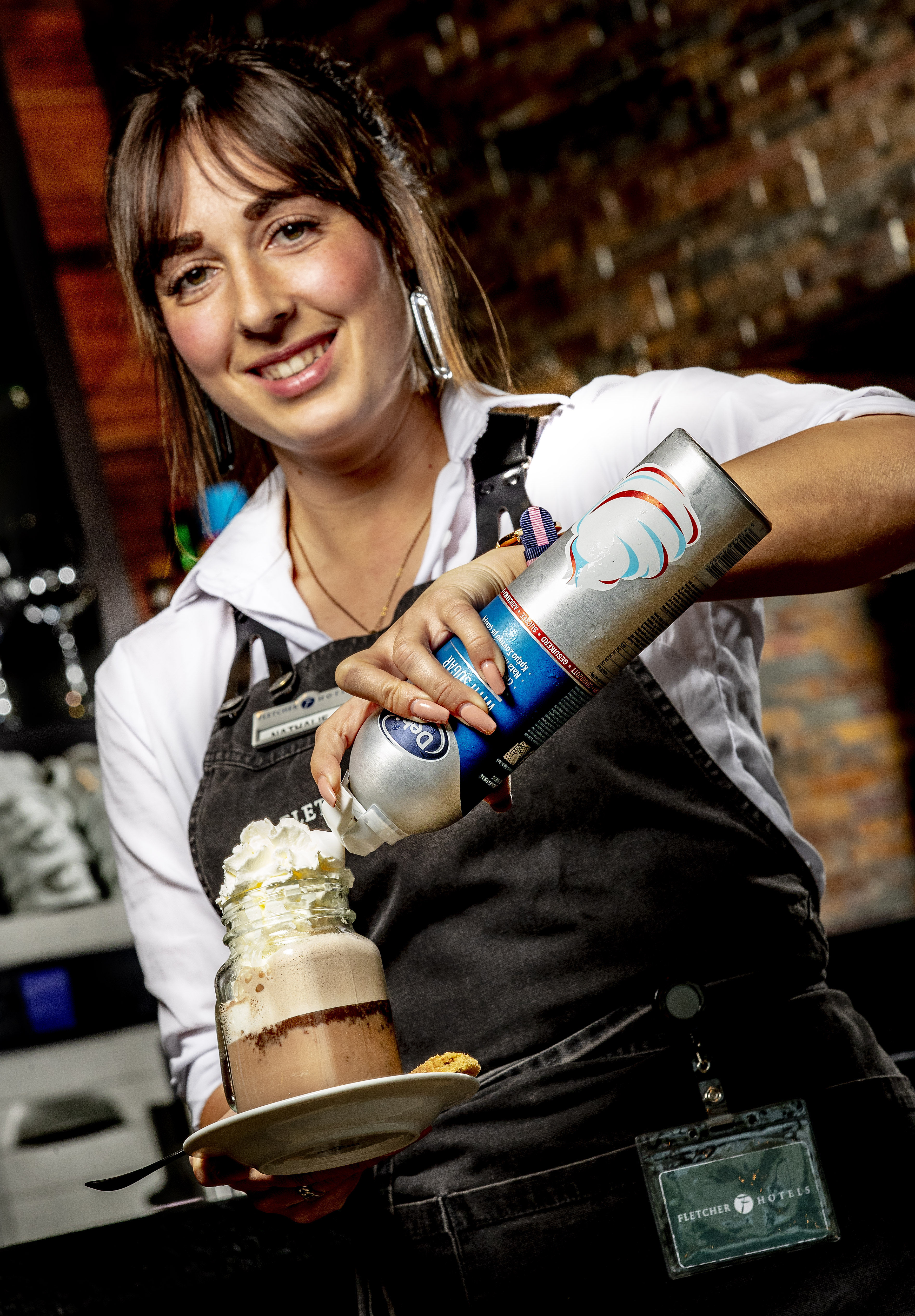 Hotel De Wageningsche Berg
Nathalie de Vries
"Thanks to Debic, everybody in our team can create perfect whipped cream"
Uncover the potential
Do you have a question or remark concerning our products or brand? Or do have a suggestion for us? Please contact us. Reach out to your trusted sales contact or fill out the contact form below.
Our related brands
Have a loook at Lattiz, the brand for perfect milkfoam or at Royal Hollandia, the professional cheese brand of FrieslandCampina Professional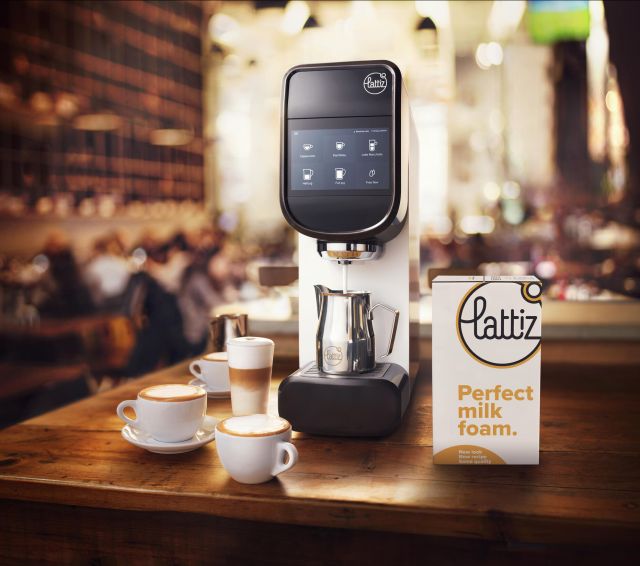 Lattiz
Lattiz
Lattiz offers consistently high quality milk foam every time to top off the perfect latte or cappuccino. It's quick and easy to use, and hygienic too because there is zero contact between the milk product or the machine operator.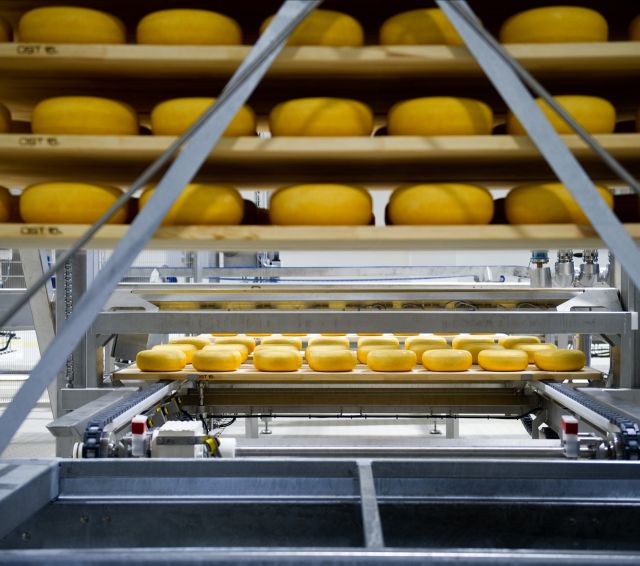 Royal Hollandia
Royal Hollandia
Royal Hollandia Cheese is made from 100% FrieslandCampina cow's milk of the highest quality. It is a firm cheese that is easy to grate into strings and won't clump. The excellent processing properties, consistent quality and a reliable origin make Royal Hollandia the perfect ingredient for preparing the best pizzas. It also has an optimal browning effect and reacts perfectly with other ingredients. Research among users confirms the consistency of Royal Hollandia's rich and creamy taste.