accelerated reduction
McDonald's and FrieslandCampina have started a new collaboration aimed at an accelerated reduction of greenhouse gas emissions in the production of dairy supplied to McDonald's restaurants in the Netherlands and Belgium. This partnership underscores the companies' dedication to combatting climate change and is aligned with their climate ambitions for 2050.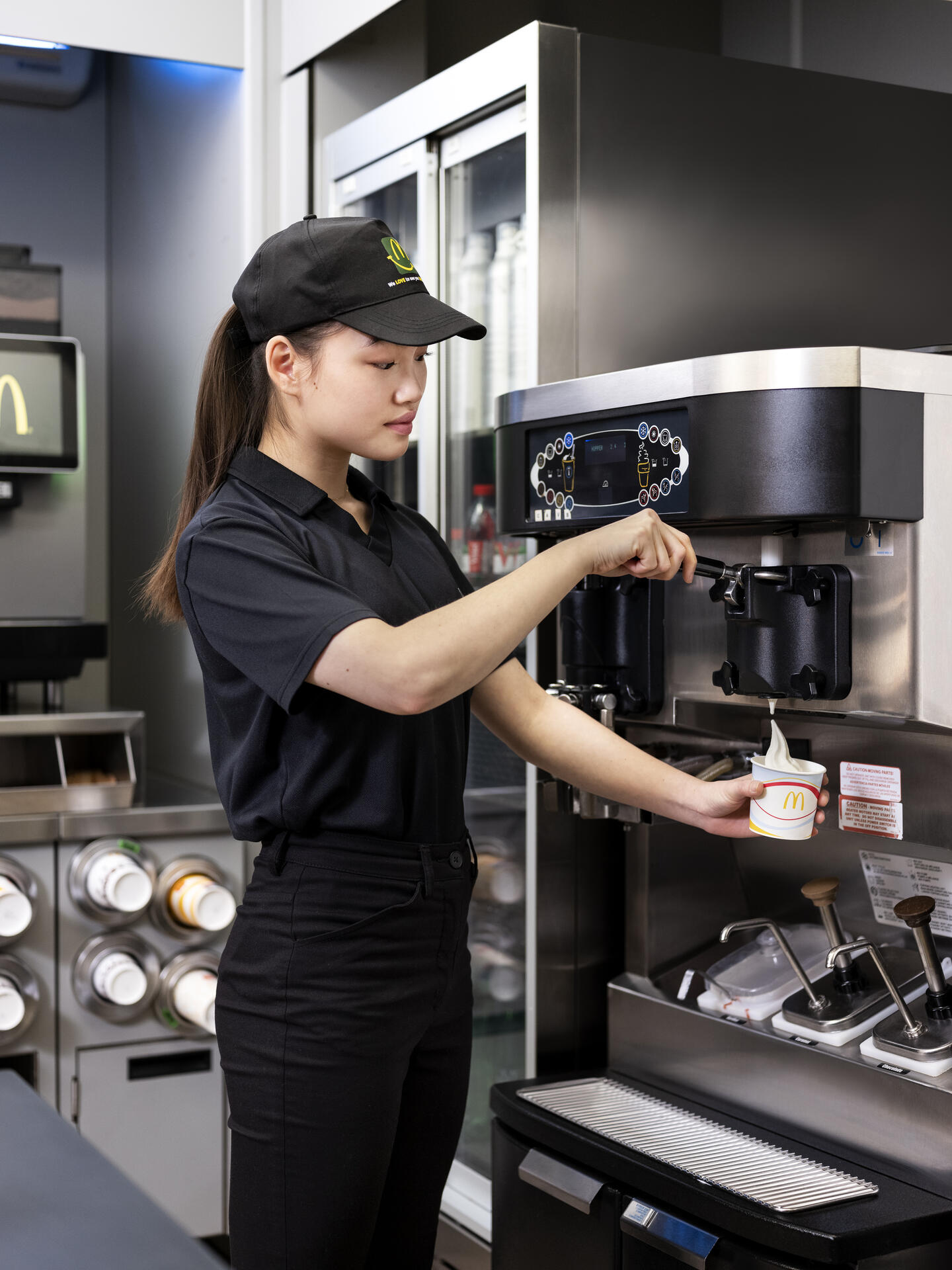 McDonald's and FrieslandCampina have been working together for over 30 years. FrieslandCampina is a key supplier to McDonald's, providing essential ingredients for beloved menu items such as McFlurry, Sundae, Milkshakes, and meat replacers like Valess. This partnership has evolved to encompass a broader mission, focusing on reducing the carbon footprint associated with dairy production. The collaboration between FrieslandCampina and McDonald's Netherlands and Belgium directly contributes to the reward of member dairy farms for their efforts, which will result in a reduction of greenhouse gas emissions by 14% by 2025, compared to 2019. 
This is a step
in a longer journey 
By working together to accelerate the reduction of greenhouse gas emissions in the dairy supply chain, both companies aim to inspire others within the industry to follow suit and contribute to a more sustainable future.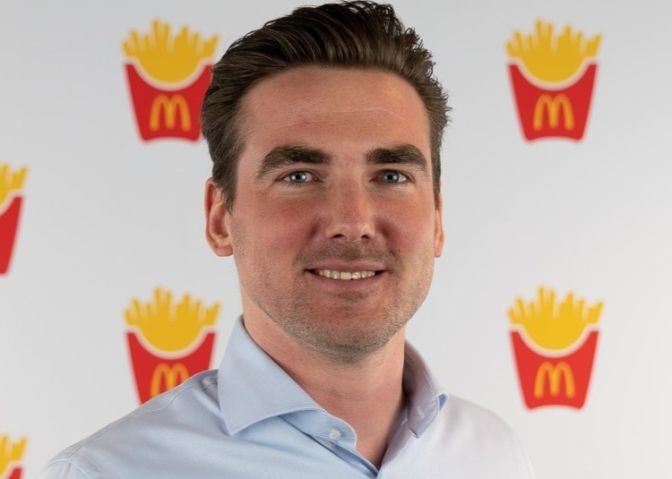 Director Supply Chain
Joost Elshof
Joost Elshof, Director Supply Chain at McDonald's Netherlands, places the collaboration with FrieslandCampina in McDonald's broader ambitions in the field of climate: "Climate change is an environmental issue of our time. McDonald's therefore wants to work with all its partners and suppliers throughout the chain on innovative solutions that limit the negative impact on the climate. With this extra dimension within our already great collaboration with FrieslandCampina, we come closer to our emission reduction goals of 2030 and our overall ambition to achieve net zero emissions by 2050. Investing in our chain in this way fits within the sustainability path that we as McDonald's have taken."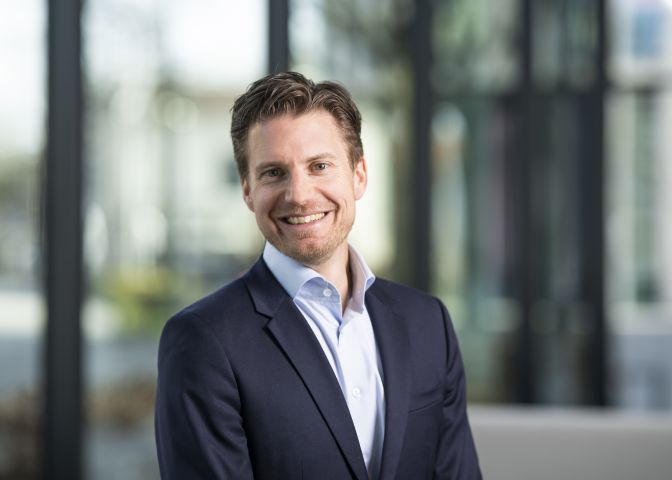 President of Professional and Trading
Roger Loo
Roger Loo, President of Professional and Trading at FrieslandCampina, also shares his thoughts: "FrieslandCampina is dedicated to producing dairy in a sustainable way. We measure and track our progress and drive improvement. Over the years, our efforts have resulted in a decrease in the carbon footprint of our dairy products. Our dairy farmers have played a crucial role in this achievement through their commitment to making their dairy farms more and more sustainable. Collaborating with valuable partners such as McDonald's is crucial in our mission to create a positive impact. Through this partnership, we can continue to support and reward our member dairy farmers."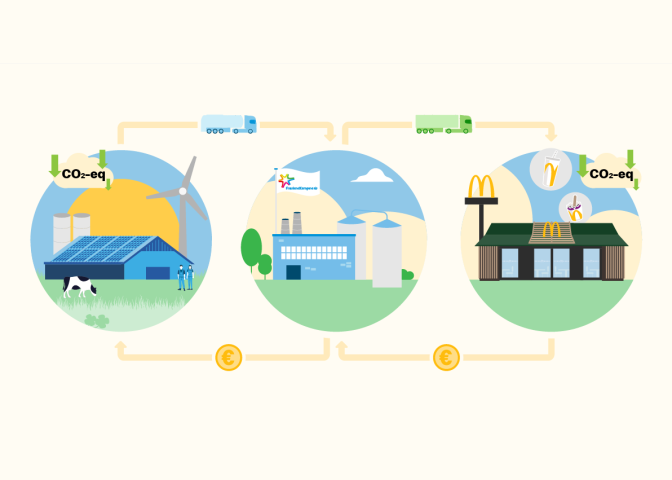 Data driven approach
The Annual Nutrient Cycling Assessment is a monitoring tool that is used by FrieslandCampina member dairy farmers. It gives farm-specific insights and results on climate and biodiversity. FrieslandCampina uses this tool to track progress and reward member dairy farmers with financial premiums for their results. Next to climate and biodiversity, the member dairy farmers are also rewarded for their results on outdoor grazing and animal health and welfare via the Foqus planet Sustainable development programme. The partnership between FrieslandCampina and McDonald's contributes to the support and rewards for farmers. Examples of measures farmers take to reduce greenhouse gas emissions are lengthening the grazing season, the use of feed with a lower footprint, the use of feed additives to lower methane emissions, and separating manure and urine on the farm. Many member dairy farmers also generate renewable energy, which subsequently is used on the FrieslandCampina's production sites. 
About Royal FrieslandCampina N.V.    
FrieslandCampina is one of the largest dairy companies in the world with a cooperative tradition of more than 150 years. The company processes the milk from dairy farms into a wide range of dairy products and ingredients. This way, FrieslandCampina every day provides hundreds of millions of people throughout the world with valuable nutrients from milk. 
Royal FrieslandCampina N.V. is fully owned by Zuivelcoöperatie FrieslandCampina U.A., with 15,137 dairy farmers in the Netherlands, Belgium and Germany as members. Through the cooperative, these member dairy farmers own and supervise the company. Together with its member dairy farmers, FrieslandCampina manages the entire production chain: from grass to glass.
FrieslandCampina provides consumers with dairy products, such as milk, yoghurt, condensed milk, dairy-based beverages, cheese, butter, quark, and cream. The dairy company supplies specific nutrition to specific consumer groups, such as children, the elderly, and sportspeople. Professional customers, such as bakers, pastry chefs, chocolate confectioners, chefs, and caterers can rely on FrieslandCampina for a broad product range, including creams, butters, desserts, and fillings. In addition, the Company supplies high-quality ingredients to international food producers and pharmaceutical companies.
In 2022, 9,927 member dairy farms in the Netherlands, Germany, and Belgium supplied over 9.5 billion kilogrammes of milk for processing into dairy products and ingredients. FrieslandCampina has branches in 30 countries and exports to more than one hundred countries worldwide. In 2022, FrieslandCampina employed an average of 21,715 employees (FTEs). For additional information, visit our website: www.frieslandcampina.com.
About McDonald's   
Every week, McDonald's Netherlands offers nearly 3.2 million guests a positive moment at any time of the day. With varied choices and fresh, iconic products which are carefully prepared by over twenty thousand employees. In the Netherlands, McDonald's has 263 restaurants. Striving for quality and customer experience is central to all facets of its operations, as is leveraging its scale to become more sustainable and make a positive contribution to society.